Roots Architecture WorkshopS:
est:WOMAD FESTIVAL 2010 - 13
CHARLTON PARK, Malmesbury, Wiltshire UK.
INTRODUCTION:
Roots Architecture Workshops (RAW) are much more than a design-and-make workshop; They are small communities where life-long lessons are shared and staged, friends are made, solidarity thrives and new projects and aspirations are shaped. RAW offers the opportunity to experience the intention, inception, emergence and consequence of architecture practically, technically, socially and cooperatively. The festival context at WOMAD helped us test and examine the impact our activities can have on communities; to thrive , heal , connect and play. To this end; our partners often share field practice and experience in humanitarian architecture, education, appropriate technology and post disaster shelter.
RAW was founded by Oliver Lowenstein; author of the magazine Fourth Door Review and by Sally Daniels and Marcus Toop; founders of tangentfield; an open architectural field-research practice - 'adventures in playful resourcefulness'

HANDS-ON_BRISTOL: PARTNERS, MODELS AND REFINEMENTS
UWE has supported student participation, documentation and reflection on the processes and pedagogic values. This has helped the coordinators refine and adapt the workshop model to explore a variety of collaborative, and consensus derived design and construction. These lessons have informed further projects.

MODEL A: The 4 day challenge with 4 teams during the WOMAD festival
RAW1 - How would 'Architecture' come to WOMAD?
PARTNERS: Charley Brentnall, Bamboo Jack, ASF & Bill Flinn [CENDEP], Integral Engineering Design, Tyin Tegnestue], Bristol Wood Recycling Project, Wiltshire Wood recycling, Petes Pallets
BUILDING: 4 separate performance stages
An open mic stage build by Theo Lowenstein and his friends
PEOPLE: with approx 40 participants in total
KEY FEATURES: Separate structures, pre-construction model making, discovery of the 'open mic' and 'Sunday extravaganza' as a public participation and celebration element - 'Amateur dramatics'
UPS: Adrenaline hit - we made it! everyone happy; great finale night on the stages, being able to barter and exchange food, lights, furniture with other festival crew,
DOWNS: 'takedown' - a big surprise how long this takes, retrieving fixings.

RAW2 - A Game of Consequences
PARTNERS: Tyin Tegnestue, Bamboo Jack, Electric Pedals, Bill Flinn [CENDEP], Integral Engineering Design, Kobberling & Kaltwasser, Nick Biggles; Bristol Pedal Revolution.
BUILDING: 4 joining performance structures
An open mic stage built by the crew - electric pedal powered
An exhibition space - timber hurricane shelter [Bill Flinn]
A proper kitchen and great chief - borrowed marquee
A canteen and meeting space - black canvas and bamboo
KEY FEATURES: Material bidding, negotiating meeting points
UPS: Connecting structures and exploring how different teams run their constructions and negotiate with each other and the adjoining teams, hijacking a flatbed and building on it!, first attempt at evening cinema talks. Sunday Extravaganza packed, pedal power provided extra invitation for participation and conversation.Tai Chi in the mornings.
DOWNS: 'takedown' - still takes much longer than expected

RAW3 - Building a City
PARTNERS: Superbolt Theatre, AFH london, Nick Biggles; Bristol Pedal Revolution, Article 25, Workshop architecture, Integral Engineering Design
BUILDING: One whole performance structure
An open mic area; an old auditorium - built by the crew;electric pedal powered
An exhibition space - re appropriated polling booths
A canteen and meeting space - black canvas and bamboo
KEY FEATURES: Amalgamated constructions, informal performance 'happenings'
UPS: The city buzz and playful interpretations; crew participating much more in the Sunday Extravaganza, exploring fine line of crisis and comedy.Tai Chi in the mornings.
DOWNS: Open mic starting to become too formal, our pitch was a difficult shape - long and thin, Ran out of acts at one point.

MODEL B: The 10 day pre-build
RAW4 - Getting involved
PARTNERS: Architrek, CAT, ASF, Cycletricity, Bamboo Jack, AFH london, Nick Biggles; Bristol Pedal Revolution, Integral Engineering Design
SPEAKEASY Talks:
Day 1 Shelter after crisis: Peter Clegg, AFHuk, ASFuk, Bill Flinn
Day 2: Self Build : Peter Lipman, Jackson Moulding, Emma & John from Lammas, Alan Shepherd
Day 3: Timber in the 21st Century: Charley Brentnall, Nigel Howe, David Saunders, Nozomi Nakabayashi
BUILDING: 4 structures to offer talks, workshops, exhibition hosting during the WOMAD festival
KEY FEATURES: Ambitious constructions, hosted spaces and activities, Tai Chi in the mornings.
UPS: All the work done before opening time; ability to see more of the festival - Space to host talks, crew able to give talks and share ideas, run demonstrations etc...Popular venues for festival goers
DOWNS: Pre-build excluded public from the process - often a good 'draw' and opportunity for meeting and sharing ideas wider than the participants. No Sunday Extravaganza. Speakeasy music nights a bit too successful - trouble with after hours music.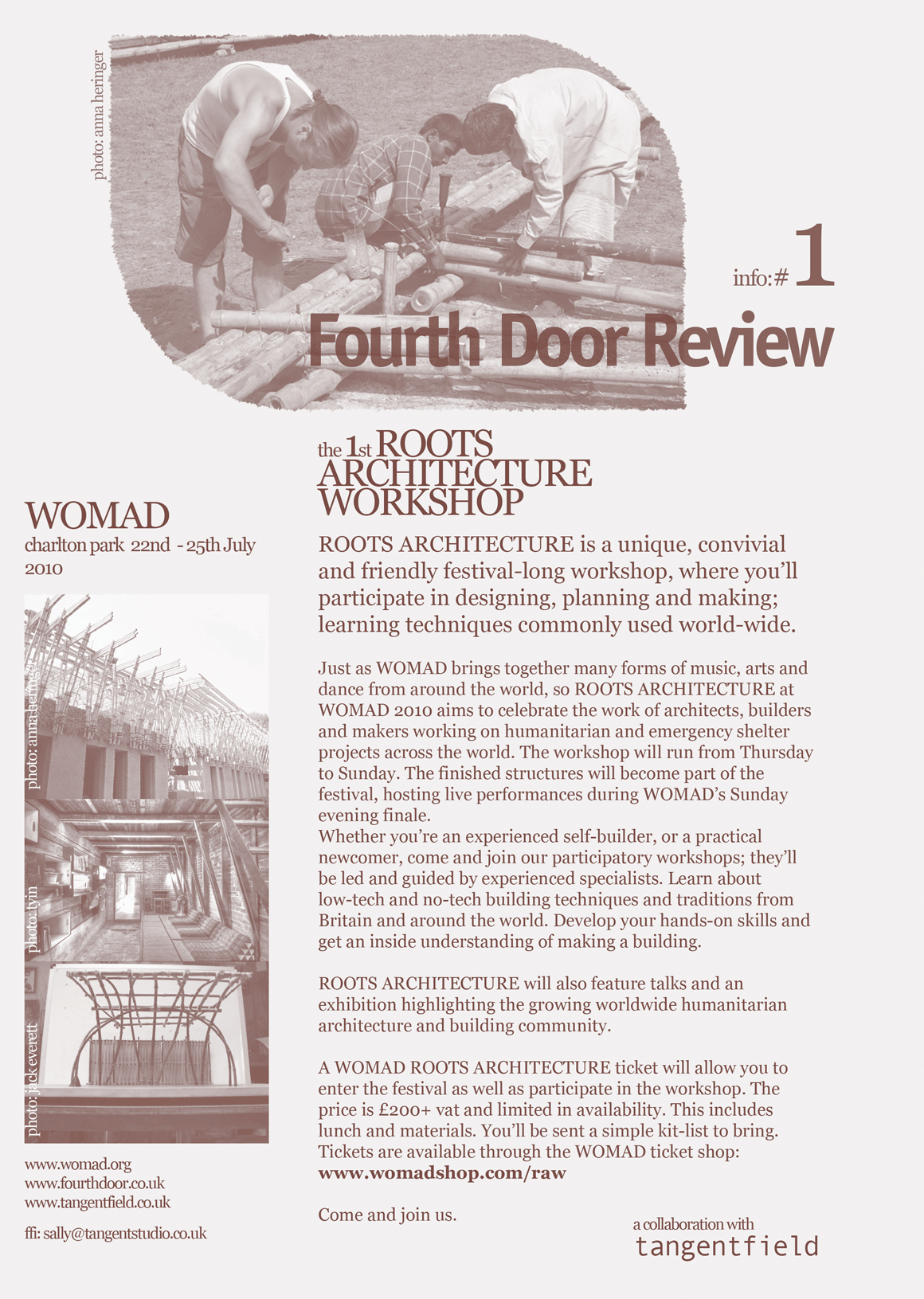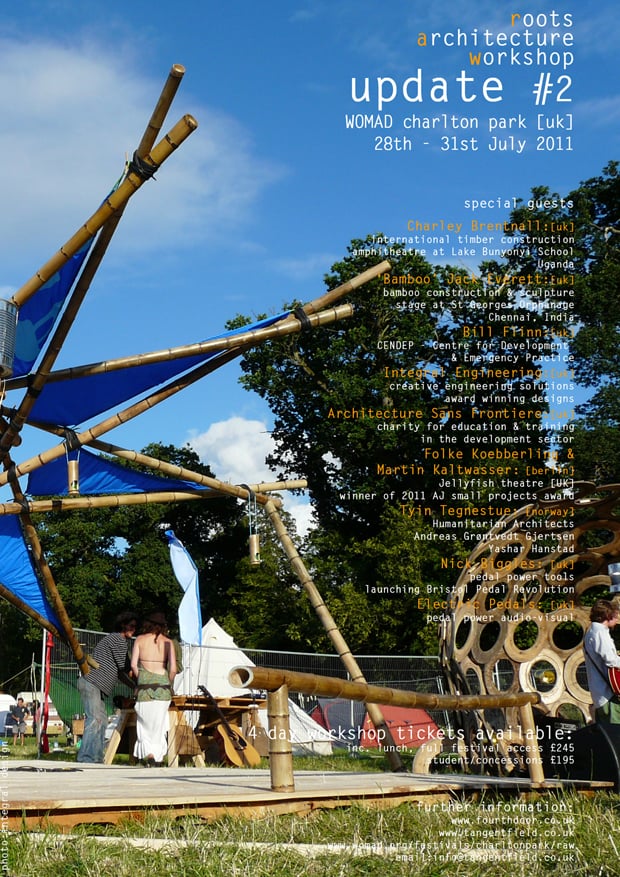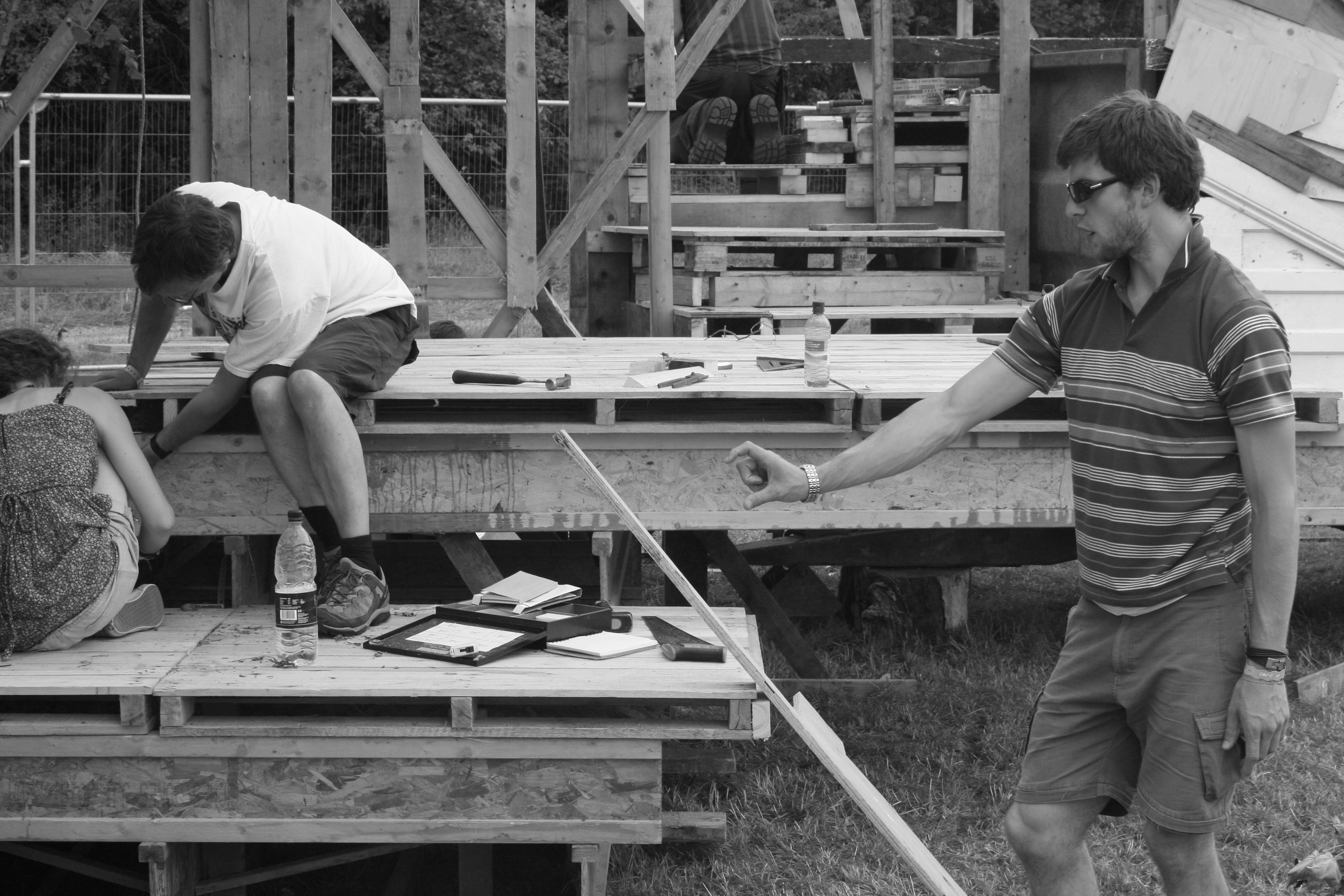 TOUCHING THE GROUND LIGHTLY:
Environmental impact is assessed and addressed throughout the workshops. RAW attempts to promote a sensitive approach to resource exploitation, by incorporating basic design and build skills with green technologies; reuse and renewables, pedal power and people power. With this, RAW aspires to demonstrate how temporary events and festivals like WOMAD can be facilitated with minimum energy consumption and waste generation.
NOTES FROM THE FIELD: RAW#4
Working with professional designers, architects, engineers, builders and carpenters, participants are exposed to a great deal of common design and construction challenges that demand practical as well as interpersonal skills. When an idea is attempted to be physically realised, it is inevitable that an ongoing process of adopting and adapting will be feeding the building process. This was experienced by Architecture Sans Frontieres (ASF) whose structure - The Atelier - involved the construction of a rammed earth wall. The challenging situation however, seemed not only to have enriched this team's knowledge but also maximised their determination to succeed as a team. The moment when the wall was successfully re-erected was thrilling and the team's satisfaction could not be measured. The qualities of flexibility and adaptability were also translated spaciously accommodating multiple uses; from glass to wool rug making workshops.
We might not always notice how much we learn when we are enthused and having fun but the reality is that because we experience learning under such positive circumstances knowledge is hatched deeper within us. Likewise, RAW takes off the pressure of high expectations concerning the 'output' and gives emphasis on the exploration and discovery taking place within a free, fluid and playful process. This was clearly expressed by The Playroom; an open performance stage designed and built by Architecture For Humanity (AFH). With its vibrancy the Playroom had successfully brought the artistic and cultural celebrations of WOMAD festival on the RAW site. It had an interesting chemistry with the workshops and open debates that were taking place in the Atelier and Speakeasy respectively.
On the other hand the playful process is challenged by realism; functionality and practicality. These matters had really driven CAT's scheme The Speakeasy which was simply designed to meet certain requirements. The simplicity of design meant by no means that construction was less complex or that the atmosphere of space was lacking. Quite the opposite, The Speakeasy had witnessed the most versatile activities and moments during the festival. During the day thought-provoking talks were offered by practitioners, craftsmen and community activists followed by open debates. The topics discussed where concerned with;
Post disaster design and humanitarian architecture – how quickly life and community can be restored after a dreadful misfortune and how design can assist broken communities and enable them to flourish again. As Katherine McNeil from AFH London explained; with small collective contributions the impact can be significant.
Self and community build - how important it is for all of us to have a sense of purpose and belonging. How shared resources can significantly reduce costs hence environmental impact and how such lifestyle reconnects us with the people and the land?
Timber. A building material for the 21st Century – how humans affiliate with trees; the most ancient living entities on Earth (Nigel Howe, Carpenters Fellowship & the AA) and how high engineering can manoeuvre natural materials in ways that give a new perspective on the 'vernacular'.
In the afternoon dancing lessons were filling the Speakeasy's space with joy and smiles. And at night everyone would gather under its large blue and white roof to showcase their dancing moves and let everyone at WOMAD give in the RAW rhythm.
The aesthetic appeal of natural material was explored by Arkitrek who erected a very elegant bamboo structure – The Canteen. Arkitrek based their design on fluent geometry and the golden ration with the intention of manifesting a structural wilderness. The Canteen was witnessing everyday moments of sharing meals, discussions and thoughts during daytime and evening chats. Most of the topics people appeared to be most interested in, even during their leisure time, were about architectural education and the everlastingly debate about theory and practice. People seemed to be determined that a hands-on approach has the ability to enrich both education and professional development to the maximum. Some also expressed their concerns about digital work dominating not only across the professional field but also in schools of architecture. What is more there was a general agreement that valuable old-school techniques like; hand-made model making and free hand-sketching are becoming rarer every year from university walls.
The experience at RAW engages with a wide spectrum of challenges concerned not only with design, society, education and the environment but also breaking the boundaries of our comfortable urban lives and the outside environment. This makes Roots Architecture Workshop a great summer activity, an effective team and a community that coexists and shares the joys of life and fulfilment.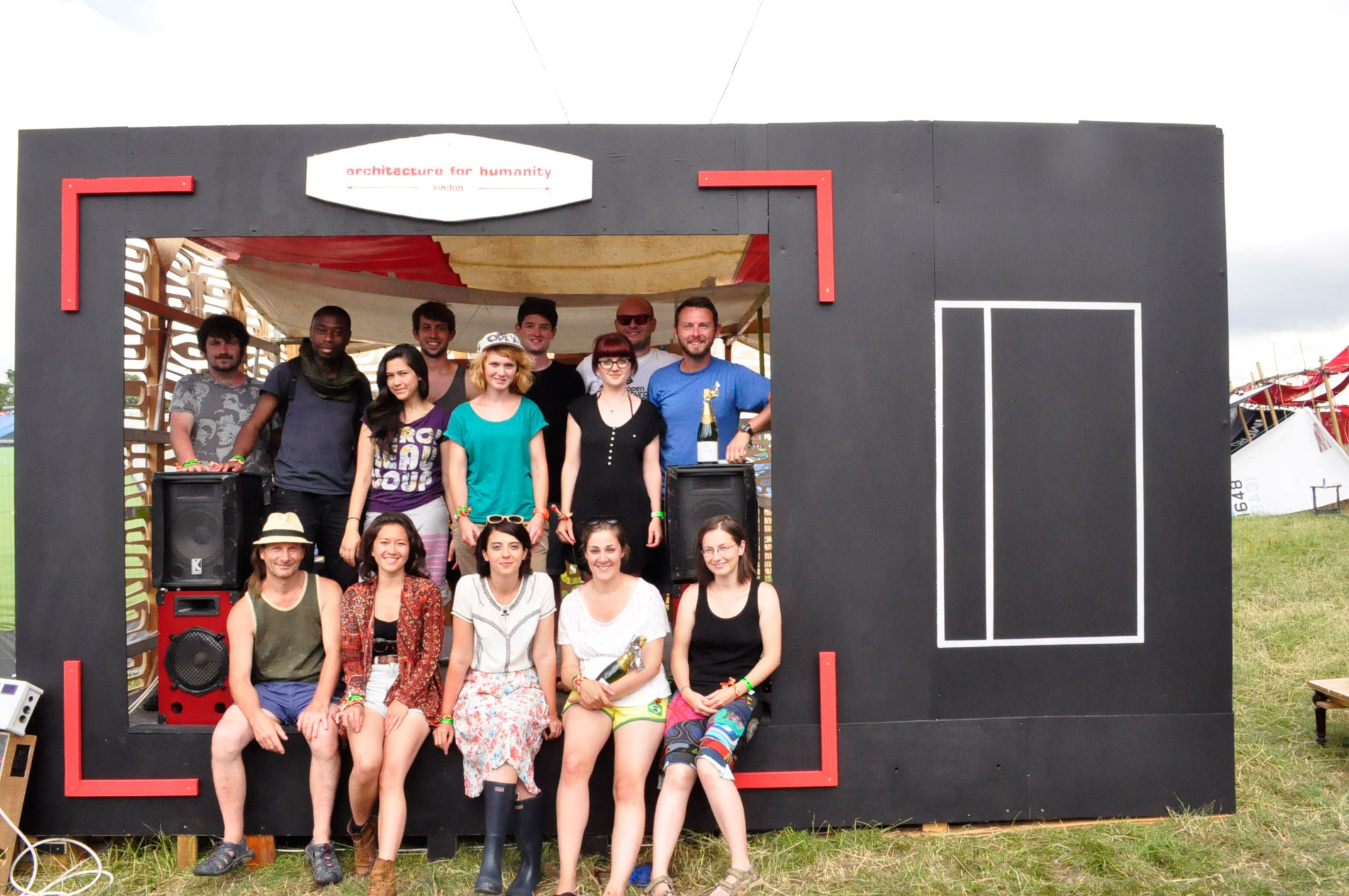 Plans for RAW#5 are already taking place. If you are interested in joining the fun next year keep your eyes and ears wide open as the number of places is limited.
by Stalo Pitta